Welcome to Symptoma
Symptoma is your digital health assistant.
It helps you understand what might be wrong if you are feeling unwell. Simply state your symptoms and answer questions to find possible medical causes.
Symptoma is based on 16 years of scientific research by medical doctors and data scientists to help patients find possible medical causes for their symptoms.
Today, Symptoma is the most used symptom checker among both, doctors and patients, with millions of users and searches per month. Its diagnostic accuracy is raising the bar in its industry and has been validated in internal, external, and peer-reviewed scientific publications comparing up to 107 solutions worldwide where Symptoma clearly ranked as #1.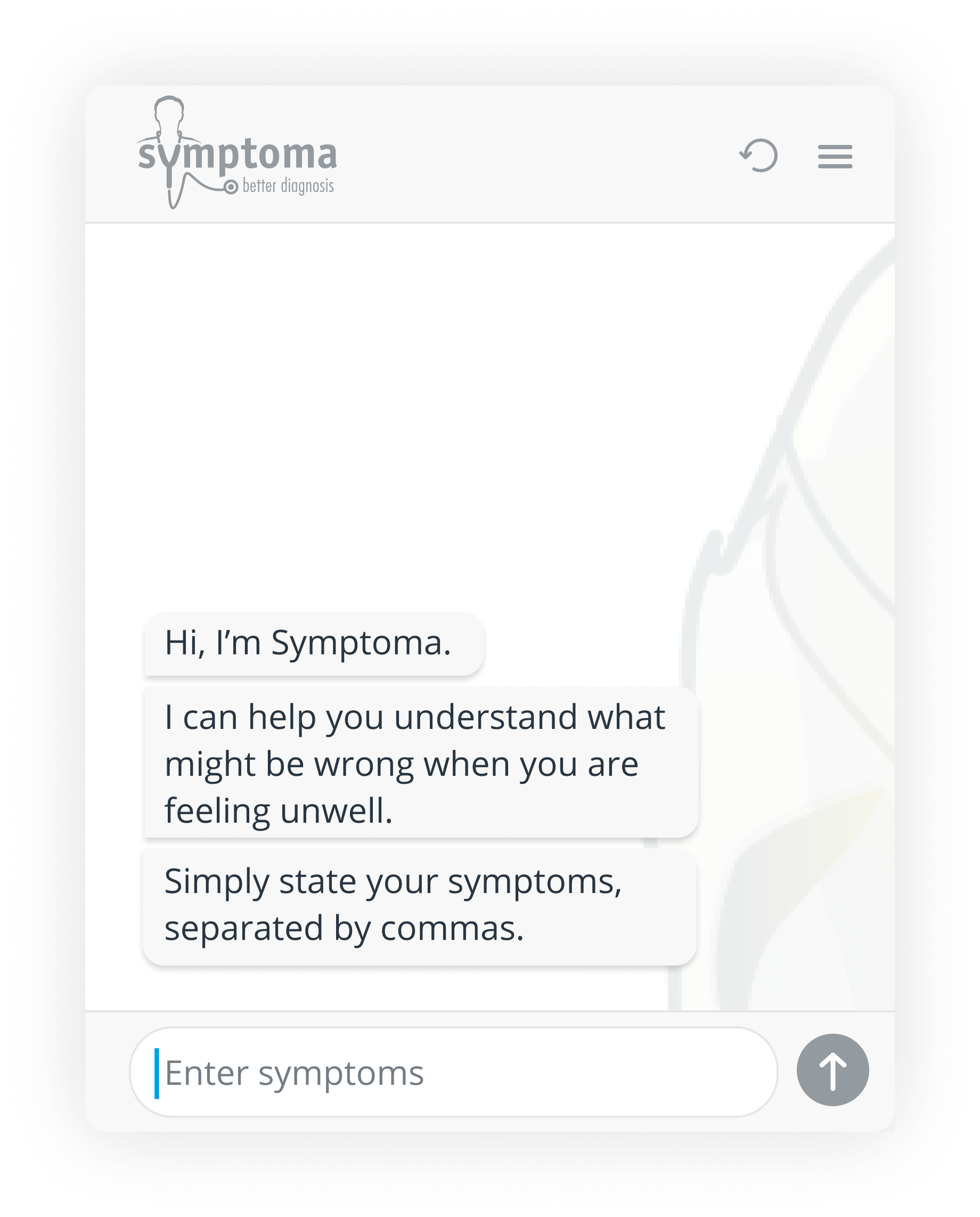 Simply state your symptoms and answer questions to find possible medical causes for your symptoms.
Symptoma is the best & most promising eHealth solution
European Commission & Dutch Ministry of Health in 2016
Our founder, Jama Nateqi, was invited to speak in the European Parliament (in 2017) and in the German Bundestag (in 2019) about Symptoma and our mission.
Each year, 1.5 million lives could be saved with the right diagnosis.
To err is human. But in medicine, errors cost lives. The delivery of health care has proceeded for decades with a blind spot: "Diagnostic errors - inaccurate or delayed diagnoses - persist throughout all settings of care and continue to harm an unacceptable number of patients." - National Academy of Medicine
"Every patient deserves the right diagnosis and treatment"
research projects validating Symptoma
Highest diagnostic accuracy rates
2019 - May
Symptoma ranked #1 in publication of a peer-reviewed performance study.
German Society for Internal Medicine awarded Symptoma
2019 - May
The German Society for Internal Medicine designated Symptoma the Lateral Thinker award.
Image by Sven Bratulic
European Commission doubles down on Symptoma
2018
The European Commission chose Symptoma among thousands of SMEs to solve the problem of misdiagnosis. Symptoma received funding from the European Union's Horizon 2020 research and innovation program under grant agreement No 830017.
Eurostars
2017 - November
European Commissions designated Symptoma for the first time as a Eurostars company. Symptoma validated its diagnostic algorithms in cardiology cases with European partners.
Speech in European Parliament
2017 - October
European Commission & EU budget commissioner, Guenther Oettinger, awarded Symptoma as Top 50 EU Company and invited our founder to speak in the European Parlament.
Export Champion
2016 – October
Government of Upper Austria awarded Symptoma as Export Champion.
Top 10 Health Innovation Worldwide
2016 – October
German minister of health, Hermann Gröhe, awarded Symptoma at the World Health Summit 2016.
Best & most promising eHealth solution
2016 - June
Awarded by the European Comission and the Dutch Ministry of Health.
TEDx Talk
2016 - June
The Blindspot in Medicine: Or How to Save 1.5 Million Lives.
Pitch in TV Show
2014
Symptoma's pitch in Austria's favorite startup TV became legendary when four of five investors made an offer right on stage.
Image by Joerg Klickermann
Pioneers Festival – Top 3
2013 - October
First public pitch. Outmatched more than 1000 startups worldwide. Ran out of business cards and Symptoma made the 3rd place.
Beta-Version of Symptoma released tailored at medical doctors.
2013
Validation study
2012
Standardized testing with hundreds of cases led by the University Hospital of Salzburg, Austria.
Proof of Concept
2009
First performance study conducted.
Alpha-Version of Symptoma
2008
First major deal won
2007
Expanding Symptoma's R&D team within offices of the incubator "Business Creation Center Salzburg".
Research & Development started on Symptoma
2006
The idea of Symptoma was born, and the R&D started. Both founders, Thomas Lutz and Jama Nateqi, built a team and committed to helping patients receiving their right diagnosis. With a long-standing track record as co-founders (since 2002) and as successful social entrepreneurs, they had already disrupted the German educational market reaching millions of students per month with a team-size of more than a hundred people.
Say hello to some of the people behind Symptoma